Free Quotes on all work
Garage Door Repairs
24 Hour Emergency Service
We Supply & Install
Garage Door Openers
New Garage Doors
Mississauga
Garage door Repair Service Serving:
Toronto
Brampton
Scarborough
Vaughan
Oakville
We Can Help!
Home Owners
Property Managers
Townhouse Condominums
Commercial & Industrial Buildings
Call Us Now For a

FREE

Estimate:

(416) 747-6869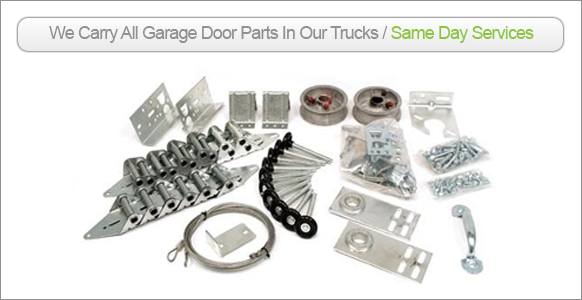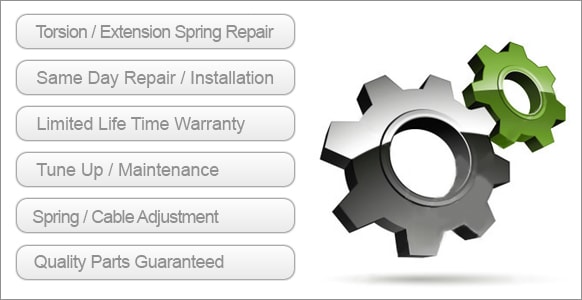 What Does a Broken Garage Door Spring Look Like?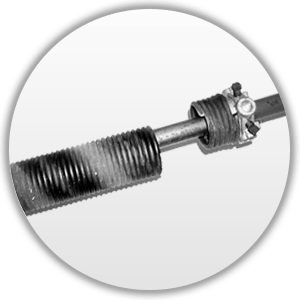 If your garage door is in the closed position, stand near the center of your garage as if you are looking out to the road, and look up above the door panels.  There will be a long metal tube that runs across the length of your garage, and typically near the middle of the tube there will be a coiled garage door spring that is black (mabye brown if it's rusted) which will have a 2 to 3 inch gap along the length of the spring that will look similar to the image on the left.
Garage Door Spring Repair With

 Premium Quality Springs.
One of the most difficult jobs in the garage door repair business involves the replacement of broken garage door torsion springs due to the risk factors involved when working with high torqued parts.  One of the most common reasons for a garage door that is level and will not open or if you have a garage door opener installed that will only open 6 to 12 inches off of the ground and then stop, there's a good chance that your garage door spring has broken.  If this is the case, our insured garage door spring repair technicians in Toronto, Mississauga, Brampton, Scarborough and the surrounding areas of the Greater Toronto, ON area are trained to preform this intricate task for you.  We have been proudly servicing residents, property management companies and managers, apartment buildings and industrial clients for over 15 years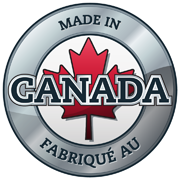 How Do Garage Door Torsion Springs Work?
Garage door torsion springs lift the full weight of the overhead garage door.  When the garage door is in the fully closed position, this it the point that the springs are under full tension.  As the garage door opens, the springs unwind losing torque the higher the garage door elevates therefore decreasing it's power to lift.  If and when the garage door spring breaks as the garage door is being opened, or in the open position, the garage door will come crashing down with it's full weight, and can cause parts to fly in all directions causing severe damage.  
SAFETY NOTICE:   If you hear a loud bang, that is most likely the sound of the spring breaking.  Do not attempt to hold onto the garage door in order to prevent it from slamming shut.  Most garage doors are durable enough to handle the impact.  Get out of the way of your garage door's downward free fall, and ensure that your family and pets are out of it's path.  Then call us if you live in Toronto, Mississauga or the surrounding GTA and we will get you back up and running, satisfaction and safety guaranteed!
Are Garage Door Spring Repairs Really That Dangerous?
Absolutely!!  If you don't have experience with garage doors, garage door spring repairs can be very dangerous.  There are even professionals that do this on a daily basis that have accidents while working with garage door springs and get seriously injured.  In fact, this type of work is so risky that the vast majority of the manufacturers only sell these parts to insured professional technicians in order to avoid liability and to avoid having a customer that is not experienced in this trade from seriously injuring themselves.  Our garage door spring repair technicians offering service to Toronto, Mississauga, Scarborough, Brampton and across the Greater Toronto Area have performed countless spring repairs and replacements and are here to serve you.  Let us assume the risk and repair your garage door spring, and while we are there we will do a safety inspection for the rest of your overhead garage door in order to ensure that your garage door will be safe and reliable for a long time to come!
Garage Door Repairs in Toronto, Mississauga & The GTA!
AVF Residential
Toronto Garage Door Repair Service
www.atbdoor.com
705-21 Richgrove Drive
Etobicoke, ON M9R 2L2
Tel: (416) 747-6869
24  Hours /  7 Days a Week